In this drawing lesson I will tell you how to draw an easy kitten step by step. This instruction will be simple and clear for you.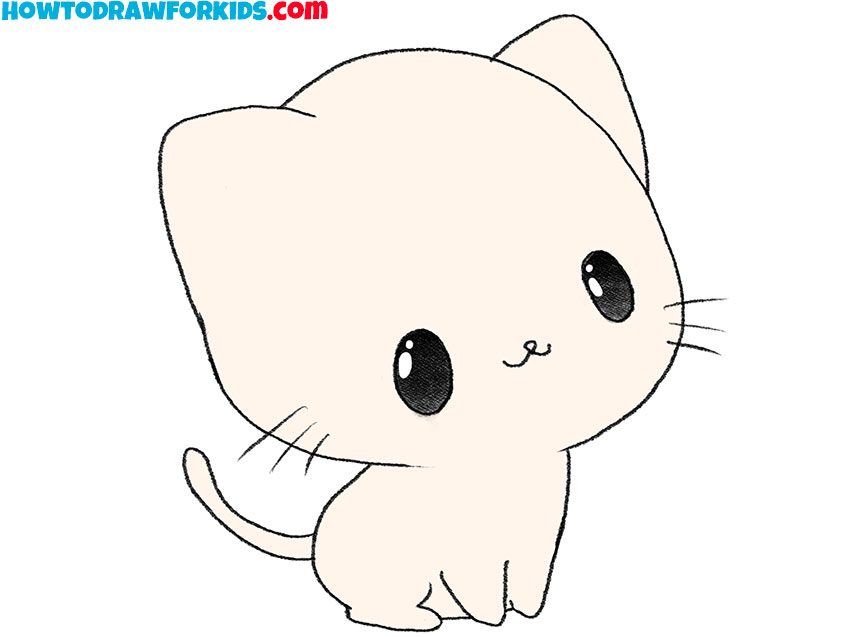 I am glad to bring to your attention this fascinating drawing lesson in which you can learn how to draw an easy kitten step by step. This drawing lesson consists of nine steps, each of which has a detailed description.
The kitten is a baby cat. These animals are very funny, so they are often seen as cartoon characters. Thanks to this tutorial, you will draw a simple cartoon style kitten, so it will not look very realistic, but it will be very cute and cute.
So, if you are already interested in this lesson, and you want to quickly learn how to draw an easy kitten step by step, then I recommend that you prepare art supplies right now and start drawing.
Materials
Pencil
Paper
Eraser
Coloring supplies
Time needed: 30 minutes.
How to Draw an Easy Kitten
Draw the outline of the head.

Depict the head as a slightly deformed circle shape using a curved line.

Add the outlines of the torso.

To draw the kitten's torso, you need to draw one small, curved line below the head.

Sketch out the eyes of the kitten.

Depict the two eyes of the kitten inside the drawn outline of the head as ovals of different sizes.

Add the rest of the facial features.

Now you need to draw the nose, mouth, and whiskers of the kitten.

Depict the ears of the easy kitten.

At the top of the kitten's head draw two ears using curved lines of different lengths as shown.

Draw the outlines of the front paws.

At the bottom of the previously drawn kitten's torso, draw the two front paws using curved lines.

Draw the outlines of the hind legs and tail.

Depict the tail as a curved line on the left of the body, use an arc and rounded lines for the paw.

Correct inaccuracies.

Now use the eraser to remove unnecessary auxiliary lines.

Color the drawing.

To color an easy kitten, use light beige and black. Add the highlights to the kitten's eyes.
Don't forget to download the PDF file, which contains a short version of this lesson, as well as additional practice materials to help you complete it.