In this tutorial, I will show you how to draw easy Sonic. The lesson will not be difficult and at the same time very interesting.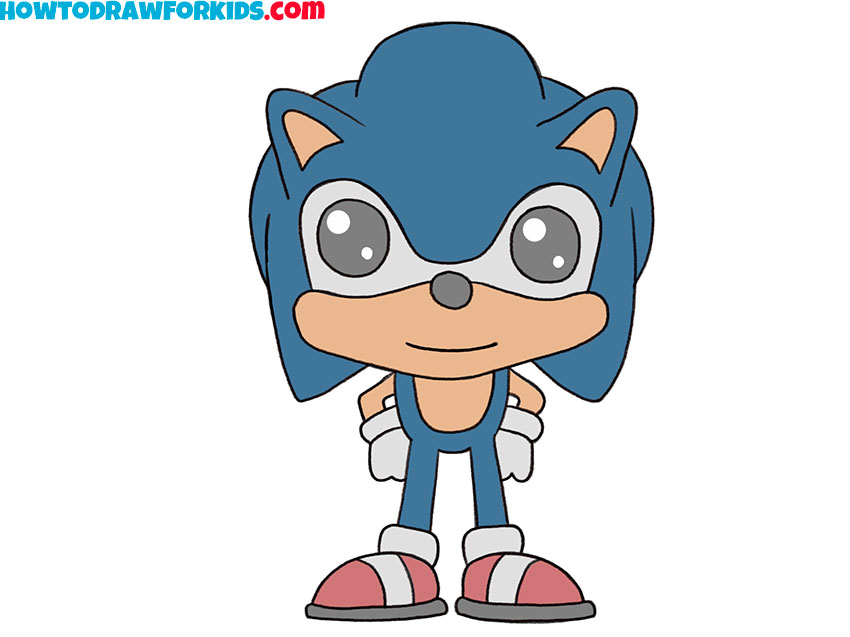 I propose to complete the next lesson, which is devoted to drawing your favorite characters, and in this lesson you will learn how to draw an easy Sonic.
Surely you like the animated series about Sonic and you will be happy to draw this unusual hedgehog. Sonic Boom is famous for his ability to move quickly through space.
Here is a very simple way how you can quickly and easily draw Sonic. This drawing method is great for beginners because it contains a minimum of elements, while at the same time the character is easily recognizable.
Pay attention to the proportions of Sonic's body. The head is much larger than the body, arms, and legs are short, shoes are large. Try to keep these proportions in your drawing.
Materials
Pencil
Paper
Eraser
Coloring supplies
Time needed: 30 minutes.
How to Draw Easy Sonic
Draw the front of the face.

Use smooth, curved lines to depict two differently shaped elements.

Add facial features.

Draw the round eyes, the nose and the small mouth.

Sketch out the ears.

First draw the outer outline of the ears, then add the inner outline.

Depict the outline of the head.

Draw a semicircle on top and spiky edges on the sides.

Draw the torso.

Below the head, draw the small rounded torso and draw the legs with straight lines.

Add the hands.

The arms are bent at the elbows and rest on the sides. In this step, use smooth, curved lines.

Sketch out the shoes.

Draw large sneakers on the legs, while the socks are directed in opposite directions.

Detail the shoes.

On the shoes, draw transverse stripes and add the sole.

Color the Sonic.

You will need blue, gray, pink, and beige.
I remind you that for your convenience, I have previously created a short version of the lesson in PDF format. Save this file and complete the lesson at any convenient time.