How to Draw a Bigfoot Step by Step
In this simple tutorial, you will learn how to draw a bigfoot step by step and gain very useful drawing skills.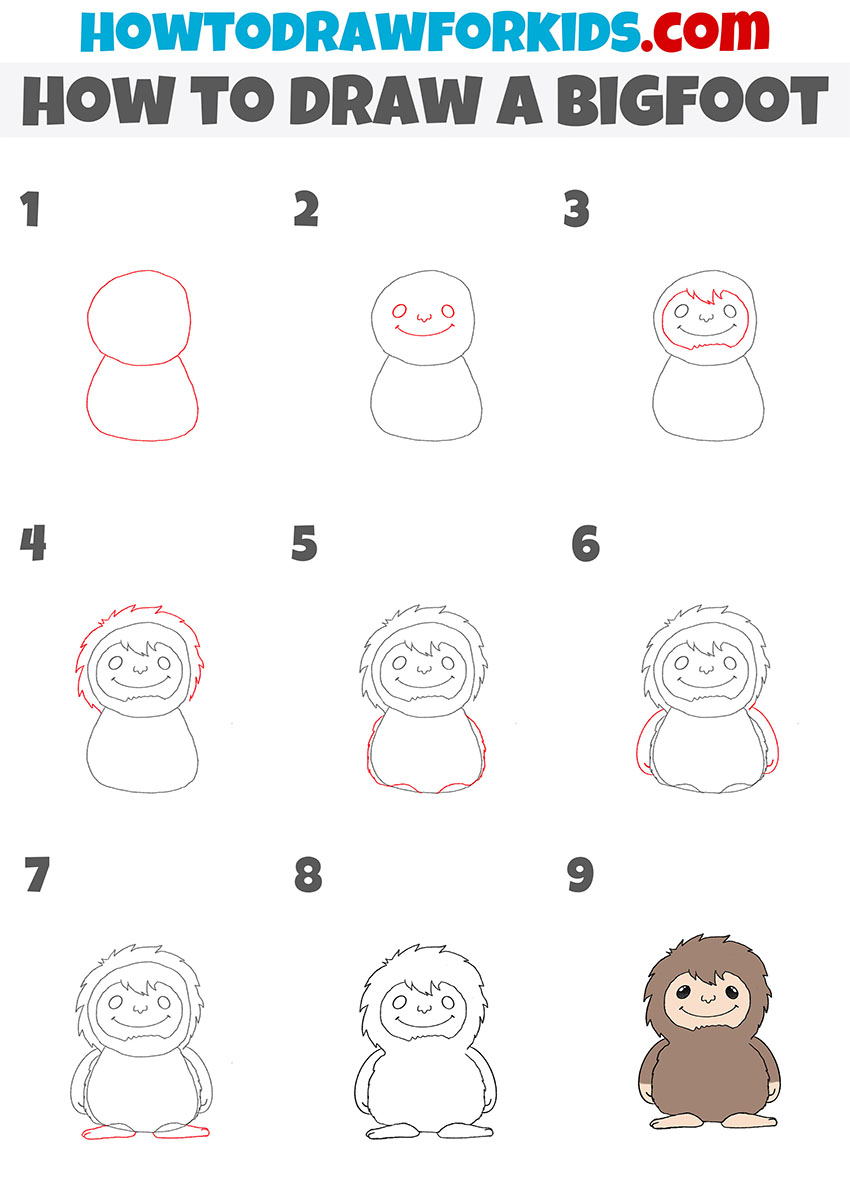 I invite you to a new interesting lesson in which you will learn how to draw a bigfoot step by step. This lesson will help you train your artistic skills.
I want to offer you an unusual object for drawing, and in this lesson, I will show you in detail how to draw a bigfoot step by step. This is an amazing humanoid creature, about which many peoples compose legends.
Currently, there are no exact facts confirming the existence of the bigfoot, but there are many interesting stories. It is believed that the bigfoot lives high in the mountains.
According to eyewitnesses, the bigfoot is tall and moves on two legs. The bigfoot's body is covered with fur. In this drawing, the yeti is presented in a cartoon form and does not look like it is described in the legends.
You can see that the bigfoot has a rounded body, legs are very short, and a sweet smile on his face. Bigfoot looks very funny here. I think you will enjoy this tutorial.
Materials
Pencil
Paper
Eraser
Coloring supplies
Time needed: 25 minutes
How to Draw a Bigfoot Step by Step
Draw the head and torso.

First draw a circle to depict the head, then draw the torso with smooth lines.

Add the facial features.

Sketch out the eyes, use a curved line to depict the nose, and add the wide mouth.

Draw hair on the face.

Depict the outline of the hair on the face, and use jagged lines to depict individual strands.

Sketch out the fur on the head.

Add the contour of the head, and depict individual spiky strands.

Depict the fur on the torso.

Use jagged lines to draw the fur.

Draw the hands.

On the sides, draw smooth, rounded lines and add short lines to depict the fingers.

Add the legs.

The legs are short and wide. The feet are turned in opposite directions.

Correct inaccuracies.

At this stage, remove extra lines.

Color the bigfoot.

Use beige, brown and black. Add highlights to the eyes.
At the end of the lesson, I suggest you download the PDF file that I have prepared specifically for your convenience. In this file, you will find a simplified version of the manual and other useful materials.