Now I will show you how to draw a little boy. I'm sure you won't have any problems following this tutorial.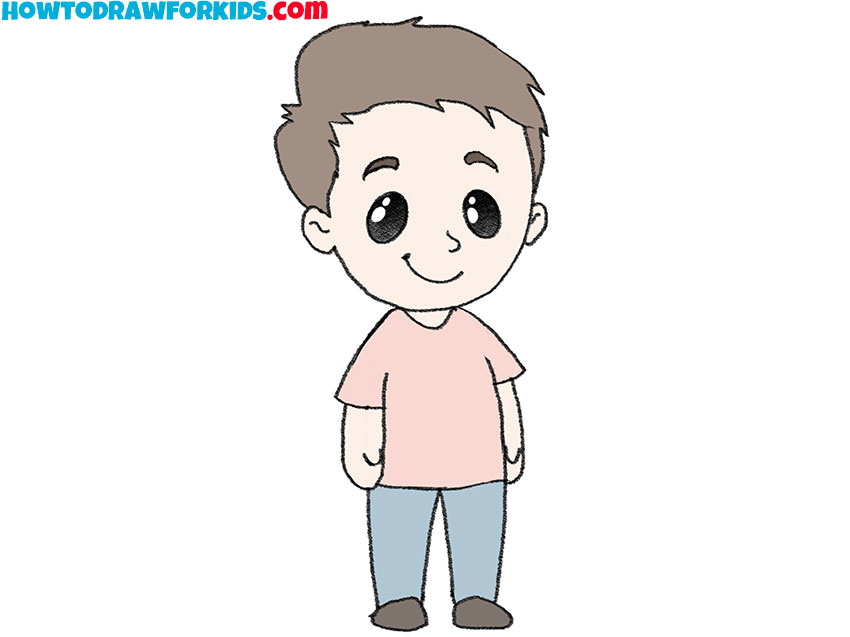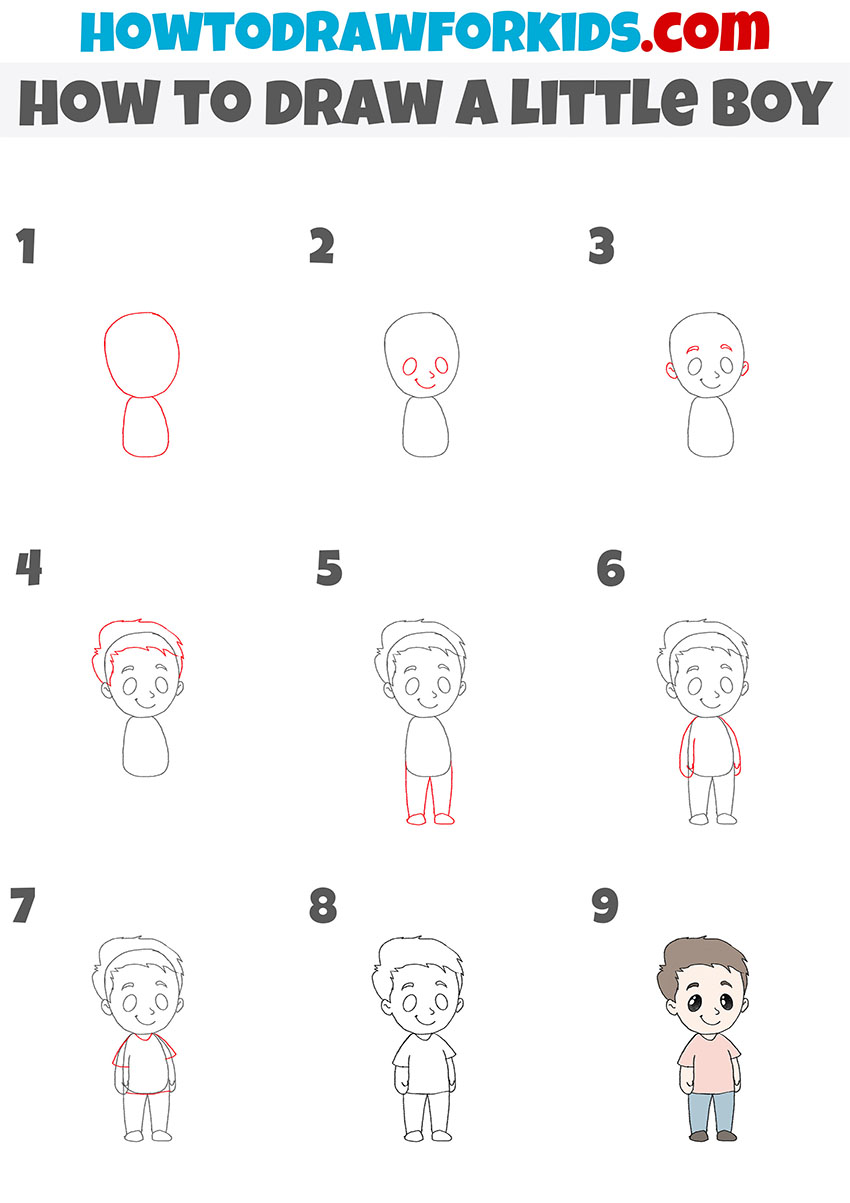 If you want to learn how to draw the figure of a child, then I recommend that you complete a new lesson on how to draw a little boy step by step. Here the boy is presented in a cartoon form and looks very cute and funny.
Pay attention to body proportions. The boy has a large head, a relatively small body and short limbs. Try to keep these proportions in your drawing. For coloring clothes, you can choose any bright colors of your choice.
Prepare your art supplies, then carefully follow all the steps in this tutorial and enjoy the creative process.
Materials
Pencil
Paper
Eraser
Coloring supplies
Time needed: 30 minutes
How to Draw a Little Boy
Draw the head and torso.

First draw the head in the shape of an oval and then add the small torso.

Sketch out facial features.

Depict the eyes in the form of two ovals. Draw the nose and mouth using curved lines.

Add the rest of the elements of the head.

Draw two ears on the sides of the head and eyebrows above the eyes.

Depict the hair.

With the help of curved lines depict the thick short hair.

Draw the legs.

Draw smooth lines down from the torso and draw the short legs. Add the feet at the bottom.

Sketch out the arms.

From the head, add down curved lines and draw the arms that fit snugly against the body.

Depict the outline of the clothes.

Draw the semicircular neckline, short sleeves and the lower outline of the T-shirt.

Correct inaccuracies.

Take a close look at your drawing, correct any mistakes and remove any extra lines.

Color the drawing.

Color the hair and skin with any natural shades. Paint clothes and shoes with bright colors.
Now you have learned how to draw a little boy. I recommend that you follow the other lessons presented on this site to improve your skills in drawing the human figure. Practice as often as possible and you will notice that your drawings will get better. Finally, I suggest you download the PDF file, which contains a short version of the lesson and additional useful content.