Hello, dear young artists and welcome to my site called Howtodrawforkids.com and to the drawing lesson where I will show you how to draw a monkey for kids. I believe that monkeys are very cute and funny creatures that delight people with their appearance and behavior. Such a nice monkey we'll be drawing.
Step 1
Draw an oval that will be a monkey's snout.
Step 2
Next, draw a strongly curved line just above the oval from the last step.
Step 3
Draw the ears and a line inside the figure from the previous step in the form of the letter M.
Step 4
Draw out the eyes, pupils, and lines inside the ears.
Step 5
Draw a small nose and a curved and smiling mouth.
Step 6
Next, draw a torso in the form of a drop and an oval on the belly.
Step 7
Draw long hairy hands with long fingers (in order for our monkey to climb trees).
Step 8
Draw the legs that are very similar to the arms that we drew in the previous step.
Step 9
Behind the monkey draw a long curved tail.
Step 10
Here is our little funny monkey is ready.
Step 11
Paint the monkey in brown color. Ears, face, belly, hands, and feet we paint it light brown.
If your monkey turned out differently than ours, it's even good, because we teach not to copy our work but draw. If you want to have access to this lesson at any time – just save this shortened version of my drawing lesson and draw, improving your skills.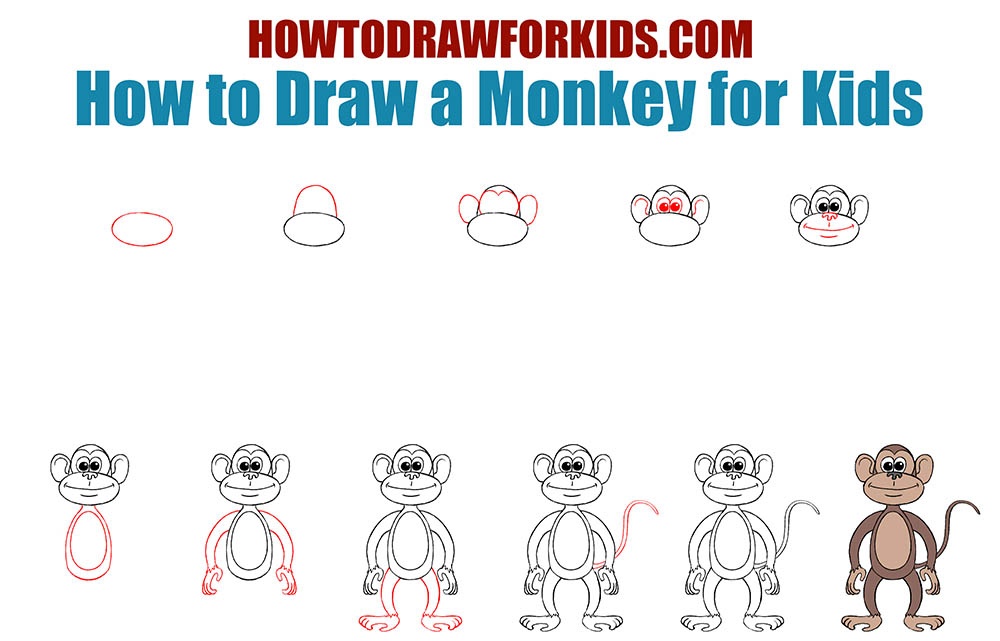 And at the very end of this lesson is a moment of morality. I am a big opponent of zoos and other places where animals are exploited. We have reached such heights in evolution not in order to torment those who are weaker than us. In my childhood I visited the zoo a couple of times, and seeing these poor animals, I had the only desire – to release all animals, be it a panda or a snake. I very much hope that in a short time the places where monkeys, bears and other animals will not be kept in small cages, but will live in freedom, as they should be.