In this super simple tutorial you will learn how to draw a pig face in just nine very easy steps with helpful tips for you.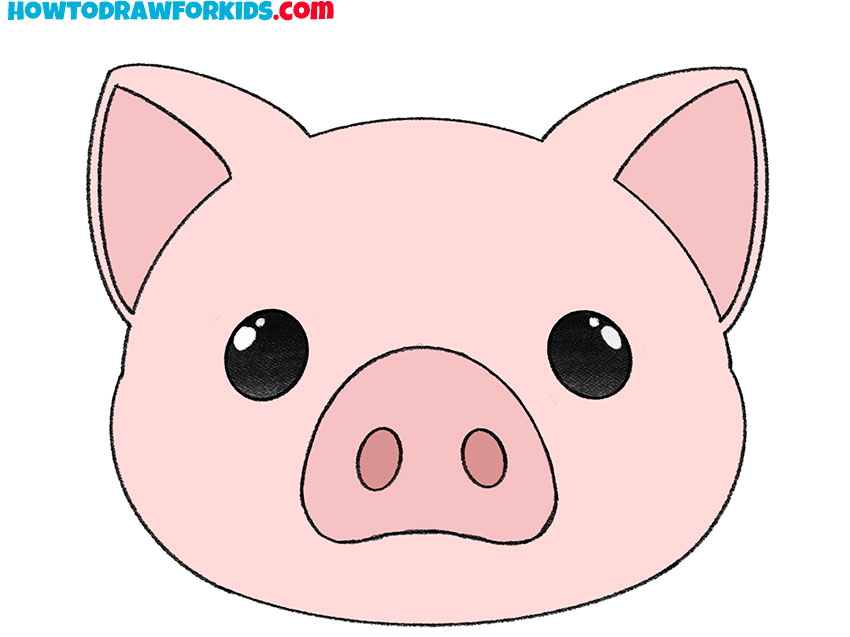 In this tutorial, I will show you how to draw a pig face. This lesson is designed specifically for beginners, so it uses simple elements that you can easily repeat.
If you like to draw animals, then you will definitely like this lesson. Here is a simple instruction that shows in detail how to draw a pig face. This is a popular animal that has long been raised in the household.
Here the pig is presented in a cartoon style and looks very cute and funny. At each drawing step there is a small hint, thanks to which you will be able to draw the next element correctly.
When you learn how to draw the face of a pig, you can easily draw other animals. The main feature of a pig is a nose of a certain shape. If you want to draw another animal, then it will be enough to change the shape of the nose.
Materials
Pencil
Paper
Eraser
Coloring supplies
Time needed: 25 minutes
How to Draw a Pig Face
Draw the bottom of the face.

To do this, draw a smooth rounded line.

Sketch out the top outline of the face.

Draw another rounded line, while the upper part of the face should be smaller in width.

Depict the ears.

The ears are pointed. They must be symmetrical.

Draw the inside of the ear.

Depict smooth lines along the outer contour.

Add the eyes.

Draw two identical circles.

Depict the nose.

With smooth lines draw the same figure as in the example.

Sketch out the nostrils.

At this stage, draw two small ovals.

Correct inaccuracies.

Carefully remove all extra lines in the drawing.

Color the pig face.

Use several shades of pink. Color the eyes black and add highlights.
Finally, I suggest you download a PDF file with a short version of the lesson. This will help you return to the lesson whenever you need to, even if the Internet is not available.