I bring to your attention a very simple and exciting drawing lesson in which I will show you how to draw a cow head.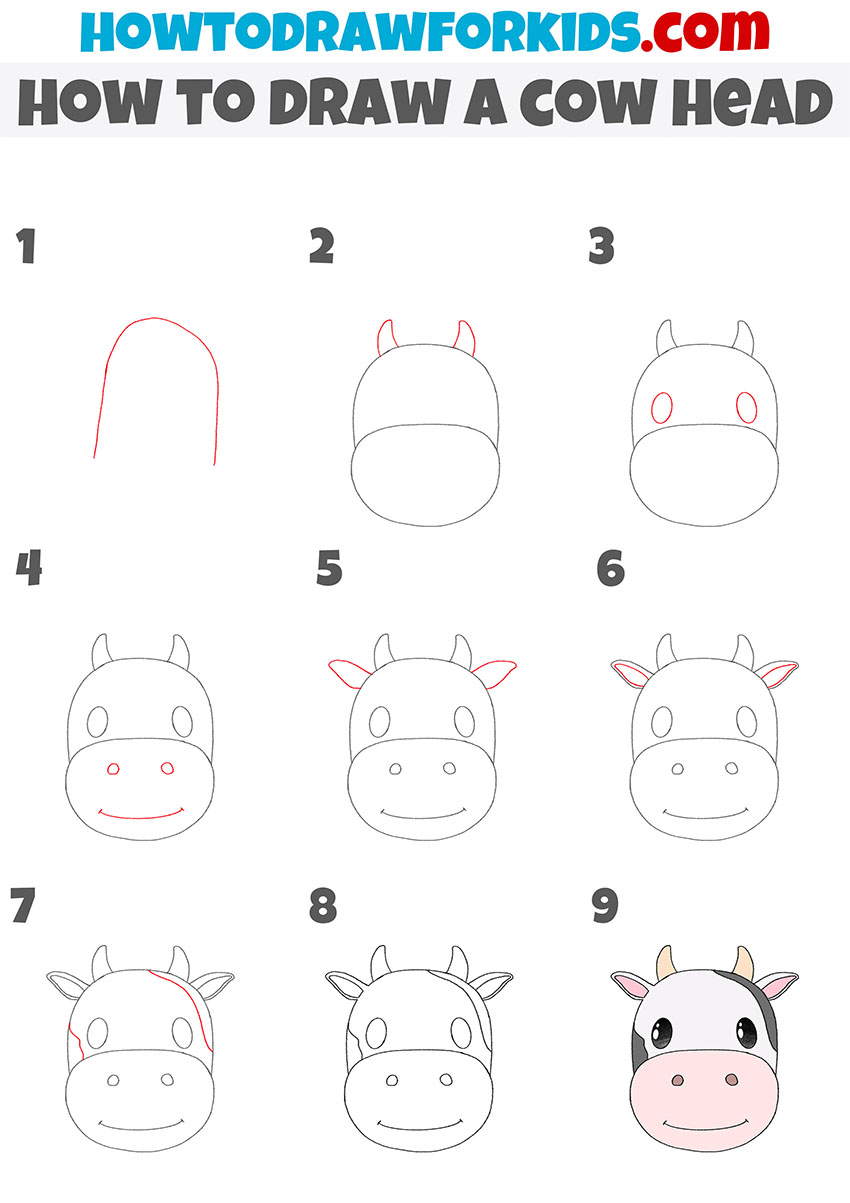 Surely you love to draw various animals, and I am glad to present you a new instruction on how to draw a cow head. Here is a very simple way to draw, which any child and aspiring artist will master.
During the lesson, observe the proportions and carefully draw all the lines. Strive to ensure that your drawing is as similar as possible to my example. The acquired skills will be useful to you in the future when you want to draw this pet in its entirety.
You can see that the cow head is oval. The front of the muzzle is rather large. It also has an oval shape. Now grab all the art supplies you'll need to complete this tutorial and get down to some fun creative work.
Materials
Pencil
Paper
Eraser
Coloring supplies
Time needed: 30 minutes
How to Draw a Cow Head
Draw the main outlines.

Add the front part of the muzzle in the form of an oval and add the rest of the outline of the head at the top.

Depict the horns.

At the crown, draw two small pointed horns.

Sketch out the eyes.

Draw two oval-shaped eyes, while maintaining symmetry.

Add the rest of the muzzle.

Depict the nostrils in the form of small circles and draw a smooth line for the mouth.

Draw the ears.

Below the horns, draw the pointed ears using smooth, curved lines.

Detail the ears.

Draw smooth lines along the outer outline to define the inside of the ear.

Depict the spots.

Using free form lines, outline the contour of the spots on the head.

Correct inaccuracies.

Take the eraser and carefully remove all the extra lines in your drawing. Correct the mistakes.

Color the drawing.

You will need pink beige gray and black.
The next lesson has come to an end, and now you know how to draw a cow head. I hope that you did your best at each stage of drawing, and you like the result of the work. I recommend downloading a PDF file with a short version of this lesson right now. In this file you will find a brief instruction and additional useful content.