I suggest you complete this wonderful drawing lesson, in which I will tell and show you how to draw Shazam. This lesson has nine steps.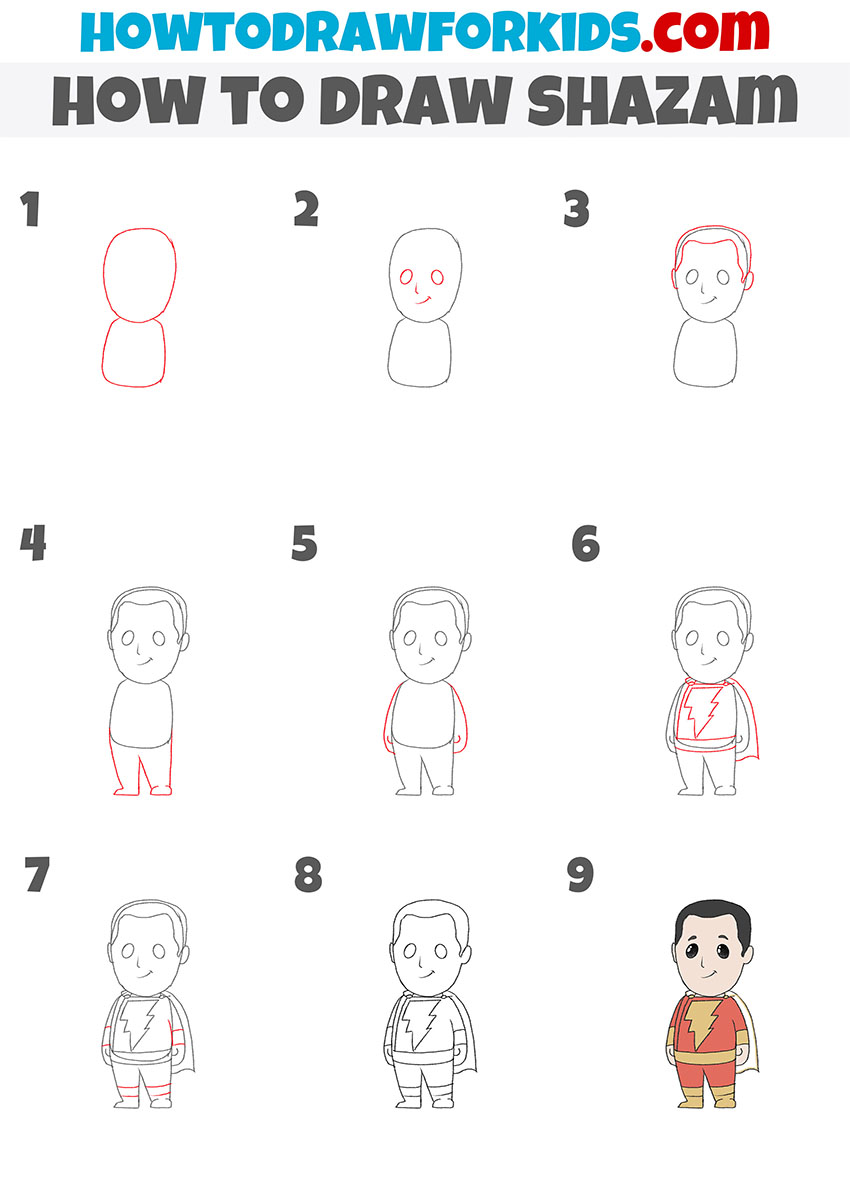 So, I am glad to offer you this unusual and fascinating drawing lesson with which you can learn how to draw Shazam step by step. This is another useful drawing lesson dedicated to depicting characters.
With this tutorial, you can practice drawing characters and people, which is very important for any artist. If you are a beginner artist or a child and don't have a lot of drawing experience, you can easily follow this lesson, because I have specially created this lesson simple enough and not containing difficult elements so that you can improve your artistic skills with it.
Shazam is a fictional superhero comic book character originally published by Fawcett Comics and later by DC Comics. This character is also known as Captain Marvel. Shazam's real name is Billy Batson, he is 14 years old and an orphan. Unlike other heroes, taking on a superhero appearance, Billy becomes a different person—he reincarnates as an adult named Shazam.
I am sure that you are already very interested in this character and want to start this drawing lesson as soon as possible. You can prepare the art supplies you will need to draw Shazam, then follow this instruction carefully and enjoy your creativity.
Materials
Pencil
Paper
Eraser
Coloring supplies
Time needed: 30 minutes
How to Draw Shazam
Draw the outlines of Shazam's head and torso.

Depict one shape like a deformed oval and also add a curved line below it.

Depict the character's facial features.

Draw the eyes as ovals inside the outline of the head, and the nose and mouth as curved lines.

Add the ears and hair of the Shazam.

On the right and left sides of the head, add curved and wavy lines at the top of the head.

Sketch out the lower limbs of the character.

Below the drawn outline of the torso of the Shazam, draw two legs turned in different directions.

Add the Shazam's hands.

On the right and left sides of the torso, draw curved lines, as shown in the figure.

Draw the costume and decorative elements.

Sketch out the cloak, draw the belt and the lightning bolt symbol on the front of the costume.

Add some decorative elements.

Draw curved lines on the character's arms and legs, add a short line near the Shazam's arm.

Correct inaccuracies.

Now you should use the eraser to remove all unnecessary lines.

Color the drawing.

To color the Shazam, use black, brown, beige, red, and yellow.
Traditionally, for your convenience, I have prepared a PDF file that contains a short version of this lesson, as well as training materials that will help you complete this lesson. Download this file right now so as not to lose this lesson and return to it at any time convenient for you, even if you are not connected to the Internet.