A super simple lesson on how to draw Thor face is ready. Get started and learn useful drawing skills in nine easy steps.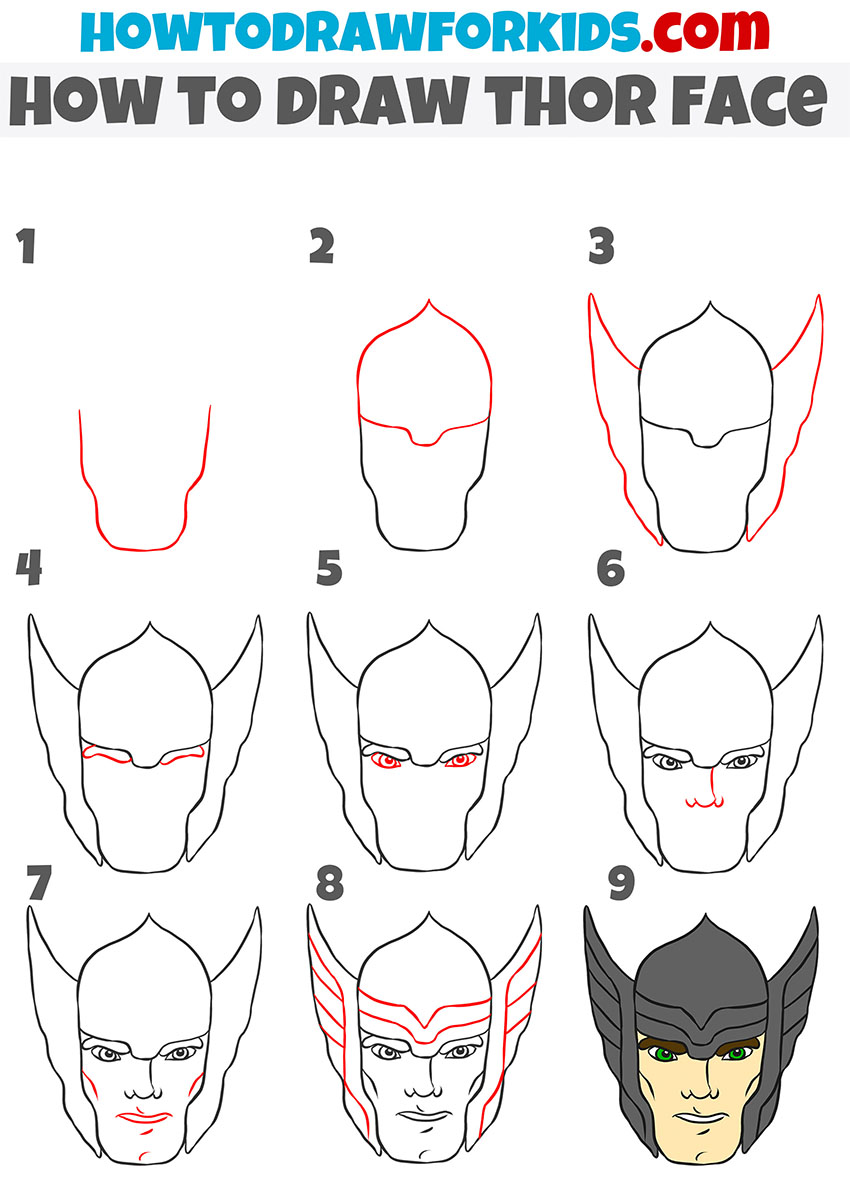 I propose to continue the theme of the characters of the comics universe of Marvel Comics and in this tutorial, I will show you how to draw Thor face. He is a famous superhero who has many fans among children and teenagers.
Thor is very smart, he perfectly calculates all his actions. This character possesses great strength, endurance, agility, and super speed. Such qualities make Thor invulnerable and help him in the fight against evil. We also know that Thor has a powerful weapon and knows how to command lightning.
In this lesson, we will not draw Thor's torso but only draw his face. You can easily cope with this task because the lesson consists of a few simple steps. In the course of the lesson, use my tips, and then you will have a good result.
Materials
Pencil
Paper
Eraser
Coloring supplies
Time needed: 20 minutes
How to Draw Thor Face
Draw an oval for the face.

The lower part of Thor's face is irregular in shape.

Depict the top of the helmet.

On the forehead, the helmet has an additional bend.

Draw the sides of the helmet.

Do this with a few smooth lines and maintain symmetry.

Sketch out the eyebrows.

Draw wide eyebrows under the helmet.

Draw the eyes.

Depict an oval for the eyes, add pupils and highlights.

Depict the nose.

Draw one vertical line as in the example and add the tip of the nose and nostrils.

Sketch out the mouth.

Draw the mouth in the same shape as in the example, add cheekbones and raised chin folds.

Add details.

Add curly elements on each part of the helmet.

Color the drawing.

Use gray, beige, brown and green colors.
I hope you enjoyed the tutorial, had a good time, and learned new skills. Share your impressions in the comments and write what other comic book characters you would like to draw. I will take into account all your wishes and prepare new exciting lessons. Traditionally, at the end of the lesson, I suggest you download a PDF file. This file contains useful tools to help you practice your skills anytime, even without internet access.