In this tutorial, you will learn how to draw unicorn eyes. This drawing lesson consists of only seven simple steps.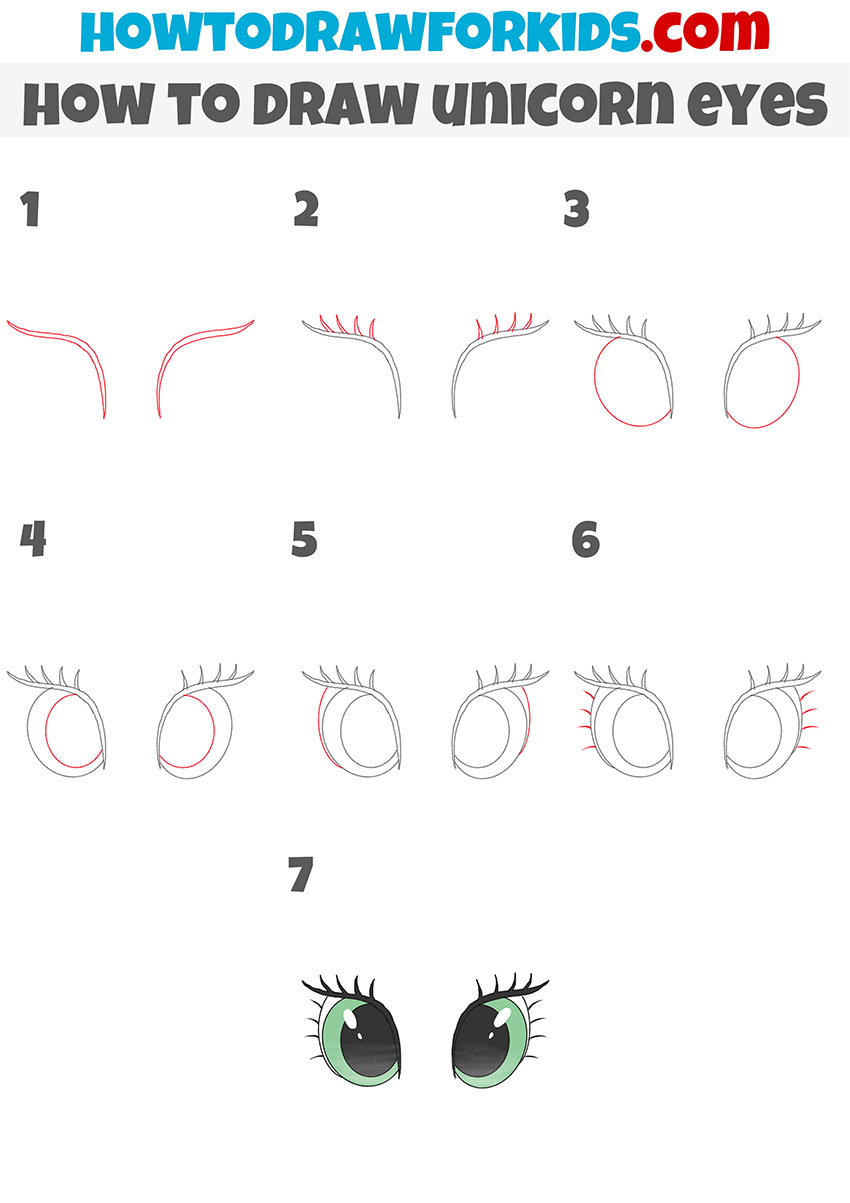 I have prepared for you a new, interesting lesson in which you will learn how to draw unicorn eyes step by step. The skills you learned in this drawing lesson will definitely come in handy if you want to draw a unicorn in the future.
A drawing of a unicorn will turn out much more beautiful and realistic if you depict the eyes of a unicorn on it in the way shown in this lesson. This lesson can be easily completed by a novice artist and a child.
Surely, you all know that a unicorn is a mythical creature that we often meet in various cartoons, fairy tales, films or books. The unicorn is usually depicted as a horse with one long horn on its forehead.
Be careful when you follow this instruction. You will need to draw two unicorn eyes that are symmetrical and the same. Now you can prepare the materials you need for drawing and start drawing the eyes of the unicorn.
Materials
Pencil
Paper
Eraser
Coloring supplies
Time needed: 30 minutes.
How to Draw Unicorn Eyes
Add the lash lines.

On the right and left sides, draw two symmetrical shapes using curved lines.

Depict the eyelashes.

At the top of both previously drawn shapes, draw four eyelashes on the right and left.

Draw the lower contour of the eyes.

Under the previously drawn shapes, depict two symmetrical incomplete ovals.

Start drawing the inside of the eye.

Inside the previously drawn incomplete ovals, add two more smaller incomplete ovals.

Depict the side edges of the eyes.

To complete this step, you need to draw two curved lines.

Add the eyelashes on the sides.

Draw four identical eyelashes along the edges of both eyes.

Color the drawing.

To color the unicorn eyes, use black and green, and add the highlights.
I want to remind you that you can now download a PDF file that contains a short version of this drawing lesson, as well as additional useful materials that will help you improve your artistic skills. Save this file so that you can use it when you want to return to this lesson again.