How to Draw a Rainbow for Kindergarten
Simple Rainbow Drawing Guide for Kindergarten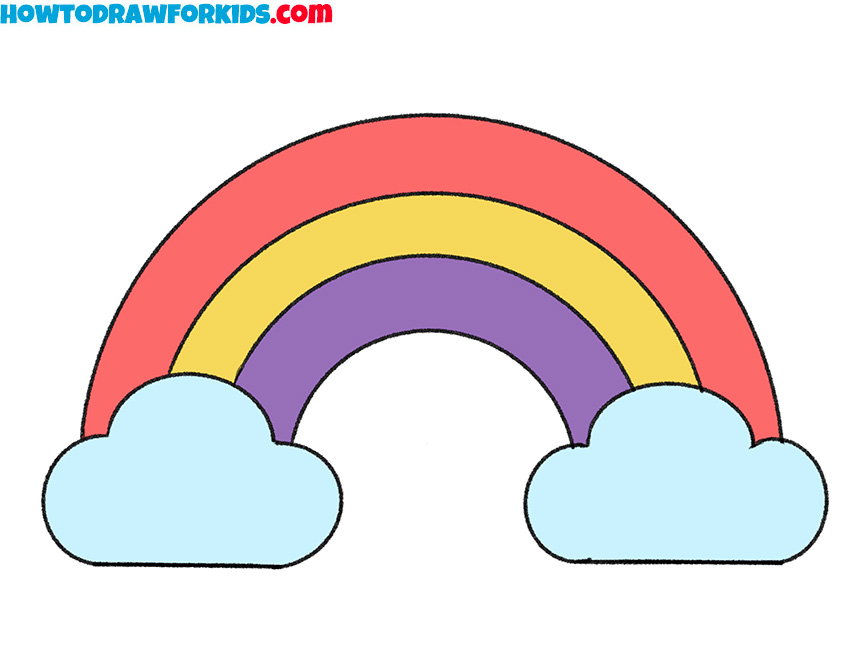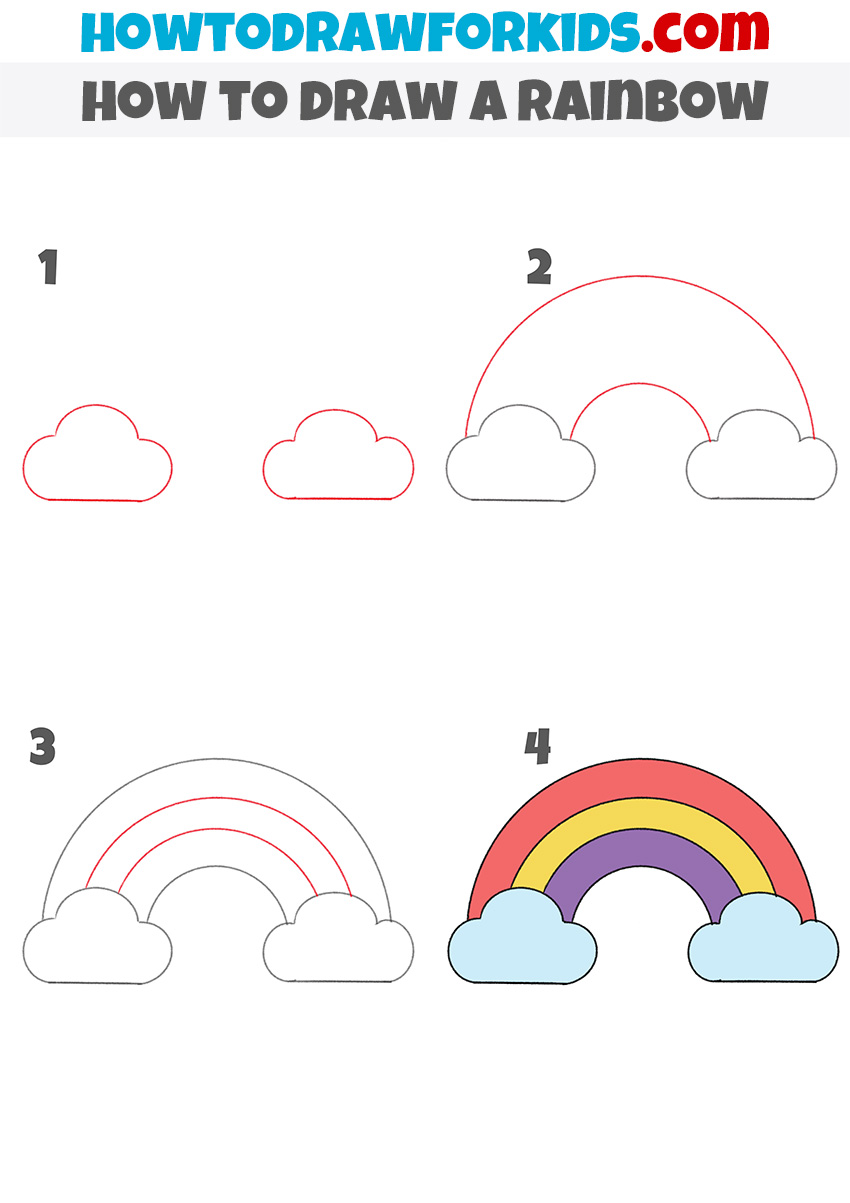 Now I invite you to complete another exciting lesson. I will show you how to draw a rainbow for kindergarten. This is an amazingly beautiful natural phenomenon. Surely you have seen a large beautiful rainbow on the firmament.
In order for a rainbow to appear, two conditions are necessary – bright sunlight and the smallest droplets of water in the air. Most often, a rainbow can be seen after rain, when the sun comes out from behind clouds, but there are still small droplets of water in the air.
A rainbow looks like an arch and consists of such colors – red, yellow, orange, green, blue, blue, purple. The rainbow is shown here in a simplified way. You do not need to paint all seven colors, it will be enough to depict three colors and it will be very similar to a rainbow. You can do this tutorial first, practice a little, and then draw the rainbow again, but add all the other colors.
The rainbow drawing tutorial includes four easy steps. All steps are accessible and understandable, so you can easily cope with this task. Follow all the steps in sequence, make sure that the rainbow lines are parallel.
So, prepare everything you need and start drawing.
Materials
Pencil
Paper
Eraser
Coloring supplies
Time needed: 12 minutes
How to Draw a Rainbow for Kindergarten
Draw the clouds.

Using smooth lines portrays the two clouds at some distance from each other.

Add the outline of the rainbow.

Draw two semicircles of different diameters.

Make the separation of the colors of the rainbow.

To do this, additionally, draw two semicircular parallel lines.

Color the rainbow.

Color the clouds in blue. Use red, yellow, and purple for the rainbow.
The rainbow drawing tutorial is over and now you have learned how to draw a beautiful rainbow. You can later use these skills in your drawings.
You can paint a beautiful landscape in which the rainbow will be the main element. Draw a rainbow and add other objects – grass, trees, birds in the sky. Let your drawing be bright and meaningful.
Did you like this drawing lesson? Share your impressions of the lesson in the comments.
For your convenience, I have prepared the free PDF file that contains the drawing guide and additional materials. Download the file and complete the lessons at any convenient time.