In this drawing lesson you will learn how to draw Black Widow step by step. This instruction is devoted to drawing a famous character.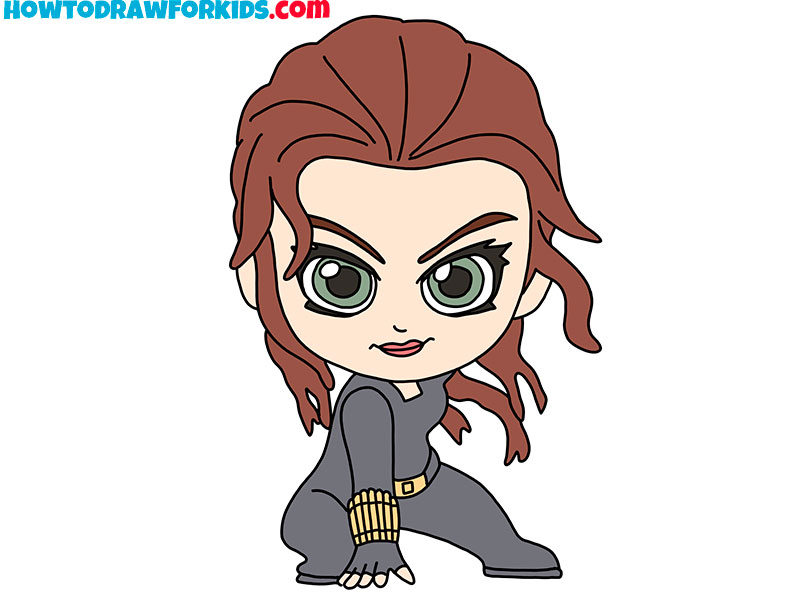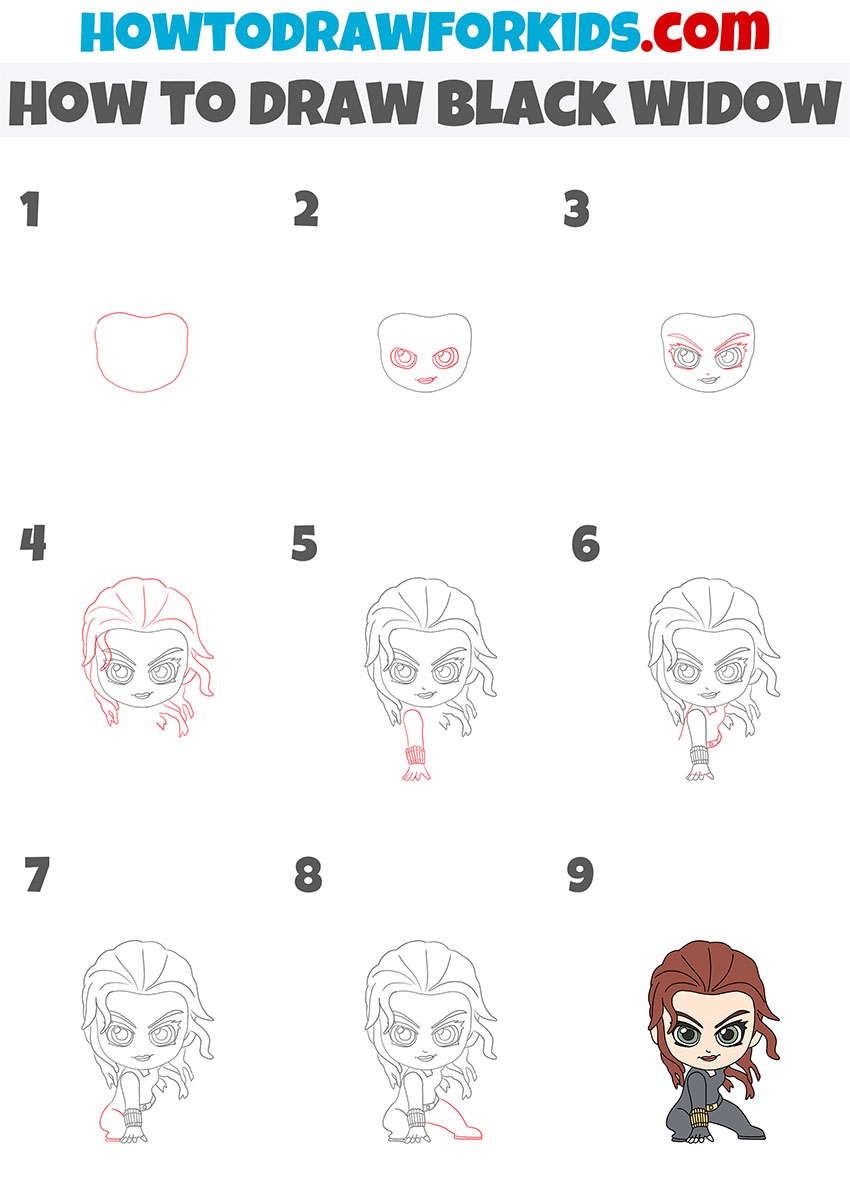 I have prepared for you another fascinating useful drawing lesson in which I will tell and show you how to draw Black Widow step by step. If you are a fan of comics published by Marvel Comics, then you definitely know this character, and this drawing lesson will not leave you indifferent.
Completing this drawing lesson will help you greatly improve your artistic skills, as well as learn how to draw people and characters in a cartoon style.
The Black Widow you will draw with this tutorial is in cartoon style, so her head looks quite large relative to the size of her torso, and she also has unrealistically large eyes, which makes the drawing more cute and beautiful.
Materials
Pencil
Paper
Eraser
Coloring supplies
Time needed: 30 minutes
How to Draw Black Widow Step by Step
Draw the outline of the character's head.

To depict the outline of the black widow's head, you should use one long, curved line.

Start drawing the Black Widow's features.

Draw the large eyes and mouth using arcs, incomplete ovals and curved lines.

Finish drawing the character's facial features.

Add the eyelashes on the eyes, and the eyebrows and nose on the face.

Depict the outlines of the hairstyle.

At the top and sides of the previously drawn character's head, add the hair using curved lines.

Sketch out one arm of the character.

Below the drawn head, depict the hand, as well as the bracelet on it, using rounded lines.

Add the Black Widow's upper body.

Draw curved lines to draw the chest, shoulder, side, knuckles, and costume element.

Depict the outlines of one leg of the character.

From the left side of the previously drawn arm, draw a few curved lines as shown.

Draw the outline of another leg of the character.

Now you should add the Black Widow's leg, drawn to the right side, using curved lines.

Color the drawing.

To color the black widow, use brown, beige, green, gray, yellow, and also black.
I remind you that you can download the PDF file that I have prepared especially for your convenience. This file contains a short version of this lesson and has additional useful training materials. Download this file so as not to lose it and return to this lesson at any time convenient for you.