In this lesson, you will learn how to draw Harley Quinn. This lesson includes nine steps that a beginner artist can easily follow.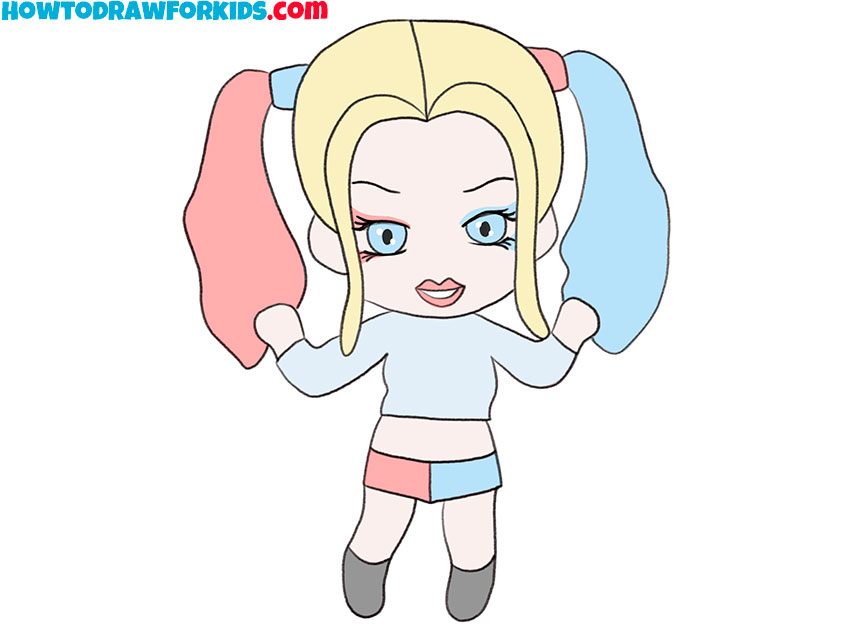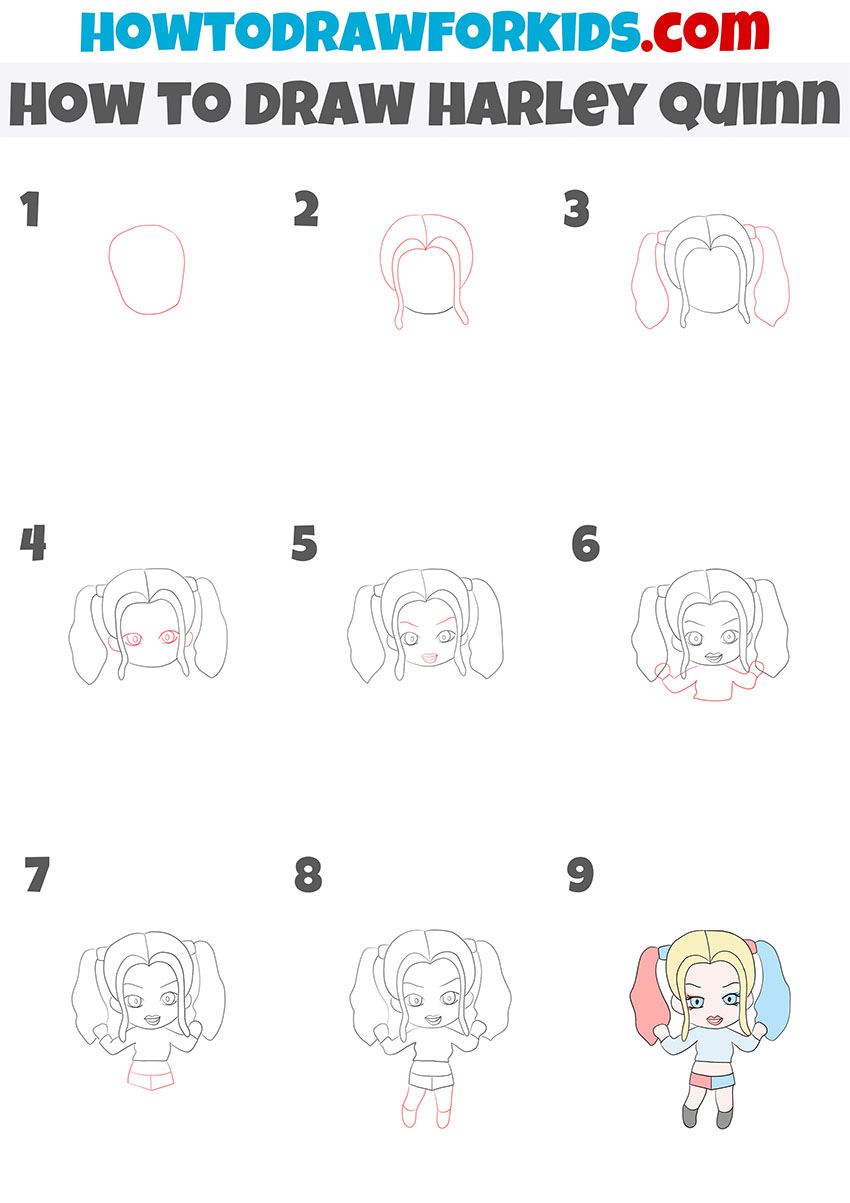 Let's continue drawing popular characters and in this tutorial I will show you how to draw Harley Quinn. This is a famous super villain from the DC Comics universe. Harley Quinn is a very flexible, agile and hardy girl, because she is a born gymnast.
Initially, Harley Quinn was presented in a jester's costume of a clowness, but then the creators changed her image. In this picture, the girl is wearing a turtleneck and short shorts, her hair is in buns and has an unusual color.
Here, Harley Quinn is presented in chibi style and has features characteristic of this style. If you follow all the drawing steps correctly and choose the right colors for coloring, then the villain will be easily recognizable.
Materials
Pencil
Paper
Eraser
Coloring supplies
Time needed: 30 minutes
How to Draw Harley Quinn
Draw the head.

The girl's head has an irregular shape, where the upper part is wider and narrows downwards.

Depict part of the hair.

With smooth rounded lines draw the hair on the crown and thin strands on the sides.

Add the rest of the hair.

On the sides of the head draw tufts of free-form hair.

Sketch out the eyes and ears.

The ears are oval and set relatively low, the eyes are large and expressive.

Draw the rest of the facial features.

At this stage, sketch out the thin eyebrows and full lips.

Add the upper body.

The body is small, the arms are bent at the elbows, the hands are raised up.

Depict the lower part of the torso.

Sketch out the belly and short shorts.

Draw the legs.

With smooth lines, depict the short legs.

Color the Harley Quinn.

You will need beige, pink, blue, yellow, and gray.
If you want to always have access to this lesson, regardless of the presence of an Internet connection, then download the short version of the lesson in PDF format. The download link is located at the end of the tutorial.